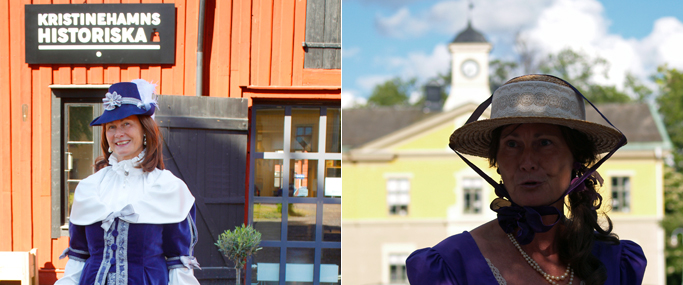 I work as a tour guide. In 2002 I moved to Kristinehamn and was immediately fascinated by its history. I do tours, hikes, and other trips. There are many interesting things to see here, the old parts of the town – with remnants from the great Iron Era (1730-1850), the lake Vänern (third largest in Europe), the freshwater archipelago, and the Picasso sculpture are some of them. I am fluent in English and I'll gladly tell you all about our fascinating city and surroundings!
Scheduled City Walks in English
In 2023 I will hold walks in English 4 days a week (from June 27th to August 11th). 85 SEK per person. Book by clicking on the button below. Payment with credit card.
All year
Private guide at requested day and time from 850 SEK/hour (1-10 people) Contact form.
I offer these tours:
– Guided Historical City Walks (about the Iron Era) Scheduled tours see above.
– The Picasso sculpture (the largest in the World)
– Queen Kristina
– The mansion of Gustafsvik