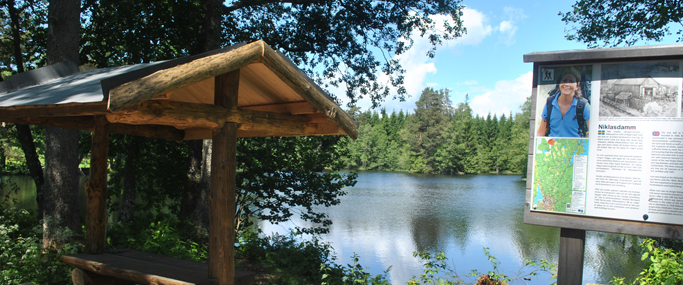 Join a nature hike with a guide. We follow the historical trail of iron from Bergslagen to Kristinehamn. Along the way, we pass through the varied countryside with woods and pastureland, lakes, and a small river. We also pass many historical sites and buildings, some are gone but many are still left to tell their story. How the iron was hauled over the terrain is described with, pictures, text, and stories. As your guide, I can point out many things that are easily missed.
The hike is classified as easy to medium in difficulty. It follows paths, gravel roads, and on some occasions an asphalt track. There are chances to see animals and birds and interesting plants. At some points, the trail climbs smaller hills. Lunch can be enjoyed by the pond or lake. Along the hike, the guide will describe nature, wild animals, and culture and tell the stories of when the iron was hauled this way.
A hike is 16 km long and takes six hours.
Booked upon request.
Dates: Weekends spring, summer, and autumn
Meeting point: The bus station Resecentrum, in central Kristinehamn.
Duration: approximately 08.50 – 15.00
Length of hike: approximately 16 km
Price: 350 SEK/person to be paid with cash or credit card at the meeting point. Bus tickets are not included.
To book: Book your place by sending a text to +46-70-8159962 or a mail to info@konsultchristinaskan.se. Minimum number of people is 10 people.
You can book a tour at your choice of time until the last of October. For more information and booking contact me at +46-70-815 99 62 or send an e-mail.
The hike takes us through many different types of nature:
Read more about the Iron Trail.